How the age of tennis players affects the results of matches and bets – tennis betting, taking into account the age of the players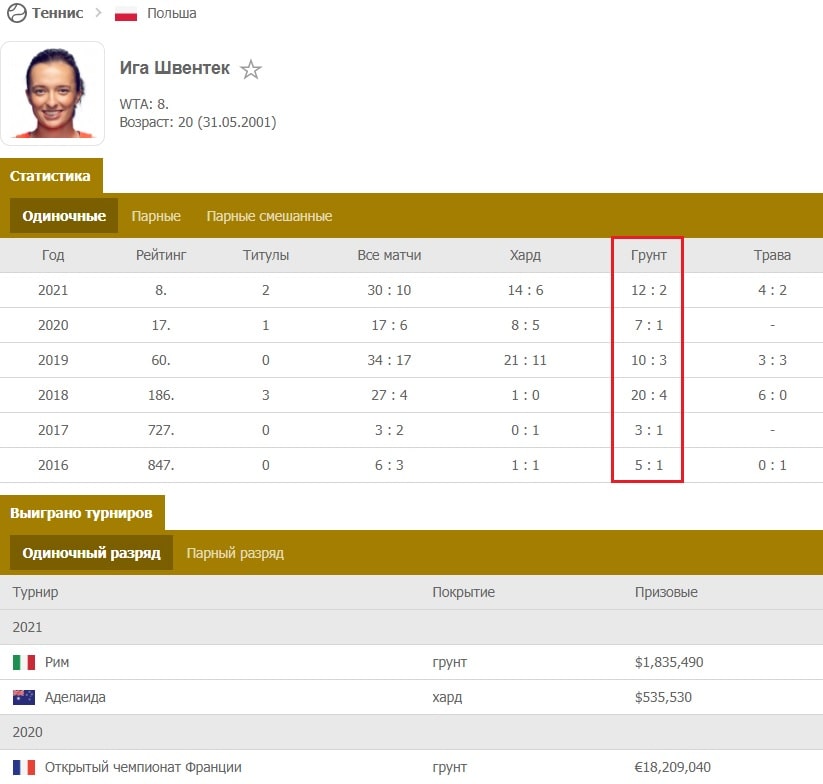 More recently, tennis was under the total control of experienced tennis players who dominated and took over all the major tournaments. Serena Williams was unattainable in the female category, while Novak Djokovic, Rafael Nadal and Roger Federer arranged triple power among men. But in the 2021 season, the US Open broke that trend. The men's category remained with Daniil Medvedev (25 years old), who dealt with the first racket of the world in three games. And for women, the title was played by Emma Radukanu (18 years old) and Leila Annie Fernandez (19 years old). Let's understand how the vector of development of tennis has changed, how the age of athletes influences the process of betting on sports.
Special material will help you find statistics for tennis betting
Content
Young tennis players (under 23) – aggression and victories
Experienced Players (24-30) – Serve Bet
Tennis veterans (over 31 years old) – protracted rallies and fights
conclusions
Young tennis players (under 23) – aggression and victories
Young players are becoming a real trend in modern tennis, they boldly go out to fight with well-deserved opponents and still act convincingly. The main confirmation of this is the titles of major competitions. Even the Grand Slam championships are already being obeyed by athletes who have not reached the age of 23.
Victories in women's Grand Slam tournaments. Recently, young tennis players have completely captured almost all surfaces. Emma Radukanu triumphed on hard, Iga Schwentek continues to break the ground. This trend can be safely used in long-term bets. The only exception would be turf, which is still dominated by experience;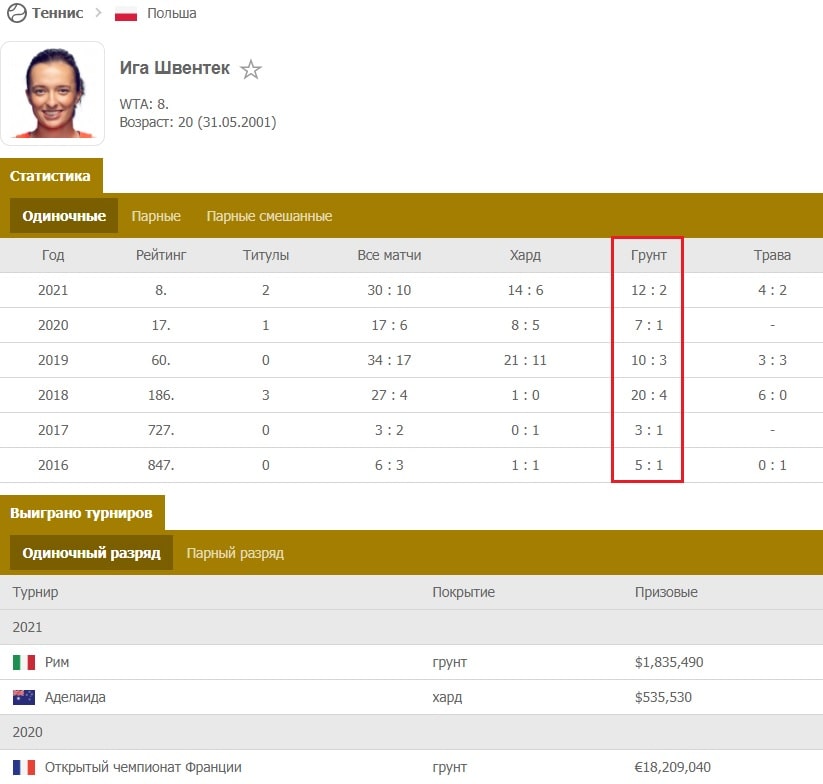 Photo source: flashscore.ru
Fast fights. Matches are rarely protracted, which is the main feature of young tennis players. It is worth winning a few rallies, as they catch courage and begin to hit the most difficult balls to execute. And a number of misfires quickly unsettle, strongly affect the emotional state. Young athletes do not control their nerves so well, so they begin to make a lot of mistakes;
Photo source: flashscore.ru
A lot of double errors. Young tennis players rarely hold the serve consistently. Therefore, most often they do not hit the square with the first ball, they are forced to perform a second attempt. And then nerves can affect, and the performance itself quite often fails. In many bookmakers, you can bet on the number of double mistakes made. And in the matches of young tennis players this must be used.
Photo source: flashscore.ru
Find out more about betting on double errors in the dedicated review.
Experienced Players (24-30) – Serve Bet
Experienced performers are already beginning to approach their emotional state more responsibly, they are working to keep themselves in hand. Even the most explosive performers by this age begin to cool down, act much more coolly.
The minimum number of breaks. Both in the male and female categories, this age is characterized by stable delivery. Therefore, in the course of the matches, the minimum number of breaks is made. Most often, this leads to the fact that fights are delayed, tennis players play a fair number of games. In addition, often the constant exchange of serves leads to the fact that athletes decide the fate of the party in a tie-break;
Photo source: flashscore.ru
A separate analytical material will help you learn how to bet on a tie-break
The maximum number of parties. Experienced tennis players know how to take a punch, not to break under the onslaught of an opponent. In addition, the consistent feed allows individual sets to be picked up at the right time. Therefore, almost always, the battles of athletes of this age are delayed not only in time, but also in the number of games played. It is noteworthy that most often the match is taken by the tennis player who played the first set better;
Photo source: flashscore.ru
No unforced errors. Composure is becoming the main distinguishing feature of this age, so you should not expect risky actions from tennis players. Most often, the bet is made on protracted rallies, in which the ball is simply transferred to the opponent's half of the field. Experienced athletes most often know how to endure, they wait for the chance to launch an attack, which will become effective.
Photo source: flashscore.ru
Tennis veterans (over 31 years old) – protracted rallies and fights
Tennis players who have been playing at a professional level for a long time are distinguished by grandmaster precision and precise actions. From the outside it may seem that the athletes are playing a chess game in which there is no room for mistakes. Therefore, it is most interesting to watch the meetings of veterans, they are an example of tennis skill.
High percentage of first serve hits. Senior tennis players are well aware of the great advantage of hitting the first ball. They try to make the most of the time allotted for the execution of the attempt. In addition, athletes consistently fall into the first square, after which it becomes much easier for them to win the rally. For tennis players of this age, over 60 percent is common;
Photo source: flashscore.ru
Protracted fights in time. Tennis veterans rarely try to force things. They prefer to slowly wear down an opponent who is also not always in optimal condition. With age, the quality of presentation decreases, so you should not count on a large number of aces. Even three-set fights can stretch for more than three hours and become a test of strength for tennis players.
Photo source: flashscore.ru
Love for slow coatings. With age, it becomes more and more difficult to move intensively around the court, to perform large volumes of running work. They are fixed on the back line and try not to let the opponent perform the shortened ones, so that they do not have to make quick dashes to the net. Therefore, veterans perform best on slow surfaces – unpaved and grass.
Photo source: flashscore.ru
A special text will tell you in detail about betting on statistics in tennis
conclusions
Age in tennis is very important and sometimes decisive. Experienced athletes perform more confidently on dirt and grass surfaces, while young ones play great on hard. In addition, recently it is young talents who have become a real discovery of the season, they even win Grand Slam tournaments. Before betting on tennis, you should definitely pay attention to the age of the participants, this can be the key to success.