How to bet on principled tennis matches?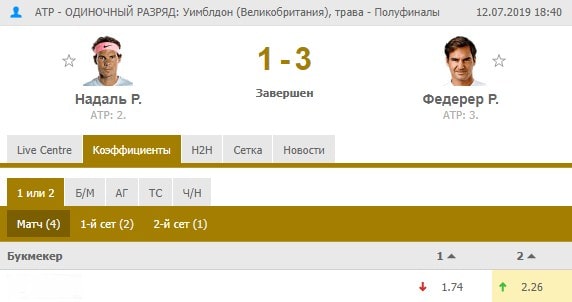 The history of face-to-face meetings in the analysis of tennis matches is sometimes simply invaluable. Nevertheless, this is an individual sport and every tennis player remembers to whom and how many times he lost. If in football the club can almost completely change by 80-90% in 1-2 years and the newly arrived football players do not really care about last year's loss to one of the rivals, then in tennis every loss is fundamental for an athlete.
For the leaders of the world ranking, face-to-face fights are in a special place, because they often have to meet, starting from the quarterfinals and above, where large sums of money and rating points are played.
Content
How to analyze face-to-face meetings?
Duration of confrontation
Effect of coverage
Venue of the tournament
Principal matches
Summing up
How to analyze face-to-face meetings?
After analyzing the current game form, the bettor should pay close attention to the history of head-to-head matches, where it is worth highlighting several important points:
The duration of the last confrontation;
On what surface the losses and gains of both participants follow when meeting each other;
Where is the tournament taking place (in which country).
Now we will consider each item separately.
Duration of confrontation
Sometimes the bettor in the course of the analysis realizes that there are two absolutely equal opponents, both of them demonstrate a high quality game. In such a situation, it is extremely difficult to make the right choice of a bet. And then the history of face-to-face meetings comes to the rescue in many cases.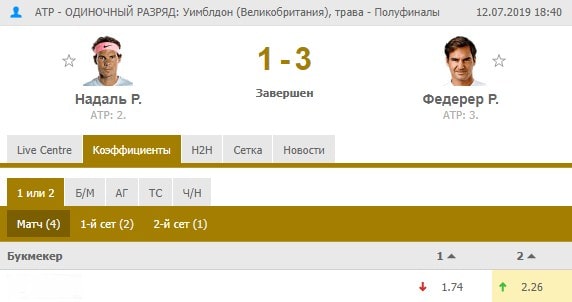 Both sides made a gross mistake in this fight: the analysts of the offices, which made Nadal a small favorite of the meeting, and in some offices the bettors also threw the Spaniard's victory. But it was in this match that it was worth betting on a small outsider of the meeting, the Swiss Roger Federer. Why? It's just that this fight was strongly influenced by one recent face-to-face meeting.
Just 5 weeks ago, Federer lost to Nadal in the French Open, this is the Spaniard's crown tournament. And five weeks later, approximately equal rivals met at Wimbledon, where the Swiss plays the stronger. Over the past few weeks, Federer's emotions after the defeat have not yet subsided, and with overwhelming motivation he approached the fight at Wimbledon and eventually won the meeting.
A huge role in this situation was played by the prescription of the face-to-face meeting – 5 weeks, during this time the emotions of a tennis player from defeat by a particular player do not subside and often this plays a decisive role in the next meeting of rivals.
Why in this confrontation it was possible to safely bet on the outsider of the meeting, who is also a more rated player in the world women's ranking? Because literally three weeks ago Plishkova lost to Azarenka in Germany.
The Bettors made a gross mistake by loading a less rated athlete, even though he was in good game form. But the result of this meeting was greatly influenced by the recently played face-to-face duel in Germany, after which the motivation to win against Plishkova simply went off scale, besides, this athlete was slightly superior to Azarenka in her level of play.
In both cases, it can be seen that the difference in meetings between approximately equal rivals was no more than 5 weeks. This is a subtle point. When the athletes last played with each other more than 3 months ago, the result of such a confrontation no longer has a significant impact, the emotions of the losing tennis player have already subsided, he does not have such a powerful emotional superiority. But when the fight took place up to 1.5-2 months ago, then such a match sometimes plays a decisive role. The main thing is that three conditions are met:
The last face-to-face meeting took place a maximum of 2 months ago, the earlier, the better;
The rivals are approximately equal;
Previously losing tennis player is not in a severe game crisis.
But there are also failures.
The time difference between both fights is 11 days, where both times the more rated player was defeated. At the time of both meetings, Osaka was at all the leader of the world women's ranking, and Putintseva was in the TOP-50. In this case, it should be said that there is not a single ideal theory of the game, and punctures always happen. But if the above rules are observed, bets will win much more often, which will bring profit at a distance.
Effect of coverage
Let's go back to the recently reviewed duels of Nadal and Federer.
Why did the Spaniard win at the French Open and then lose at Wimbledon? The answer to this question can be found in a separate post dedicated entirely to Nadal.
In short, Nadal is the king of the soil, but on the grass the Spaniard performs worse. And this is another subtle point in face-to-face meetings. If two approximately equal players have different favorite coatings, then this should be closely monitored.
When one athlete defeats his opponent on his favorite surface, as Rafa beat the Swiss on clay, and then they meet on the favorite surface of the recently loser, then you can safely bet on the victory of the loser in the last meeting. All this we saw in the face-to-face meetings of Nadal and Roger.
You can learn more about the effect of court coverage on the outcome of tennis matches in a special material.
Venue of the tournament
It is worth imagining a situation when two approximately equal opponents played a match and one of them lost. After a short time, the losing tennis player again meets with his abuser, but already at a tournament held in his native country. Here, two factors will have a powerful influence on the motivation of the athlete:
Recent loss;
Playing at home.
Considering both factors, it becomes clear which bet is worth making.
Principal matches
Even a beginner tennis bettor knows about the three most important face-to-face fights in men's tennis, these are:
Nadal – Djokovic
Nadal – Federer
Federer – Djokovic
A lot of interesting materials are devoted to these fights. But how to independently identify between which athletes there is a fundamental struggle? In reality, it is not difficult to identify such meetings, having some time for this and knowing what to take into account during the search: a tennis player has been playing at a high level for a long time, often reaching the final stages of many rating tournaments. It is this category of athletes that usually has principal rivals.
Consider one of the confrontations between two strong tennis players who have been performing at a high level for a long time.
We are talking about a Czech woman, Karolina Pliskova, and a German woman, Angelica Kerber. Both tennis players have been playing at a high level for a long time, often meeting in rating tournaments. Even in the presented case, the athletes met in the final of the tournament.
This is how the history of their face-to-face meetings looks like, rivals play every year, sometimes several times. It is clear that such confrontations are already taking on a principled character.
There can be more than one principal rivals.
For Karolina Pliskova, one of the constant rivals from year to year is the Romanian Simona Halep. And here it is worth paying attention to the last two meetings, they are less than 2 months apart. Here, at first, Halep won Victoria in a face-to-face meeting, and after 6 weeks Plishkova returned the favor to her rival.
Having spent time looking for principal rivals from the high-ranking male and female tennis players, it is worth taking note of them. When the selected athletes meet again in a face-to-face confrontation, you should pay special attention to it.
Summing up
Many experienced bettors build successful game strategies based on face-to-face confrontations. And as the above specific examples have shown, this path has a real perspective that requires increased attention.